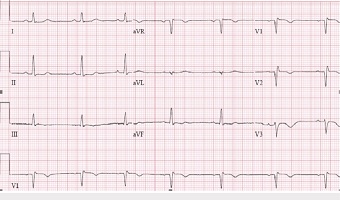 Electrocardiograph(ECG) is a device that picks up electrical activity originating in the heart from the surface of the body.
An ECG is a noninvasive, painless test with quick results. During an ECG, sensors (electrodes) that can detect the electrical activity of your heart are attached to your chest and sometimes your limbs.
Types of ECG
Resting ECG
Stress or exercise ECG
Ambulatory ECG
An electrocardiogram is also called a 12-lead EKG or 12-lead ECG because it gathers information from 12 different areas of the heart. These views are created by electrodes, typically 10, placed on the skin of your chest and sometimes your limbs. The electrical activity is recorded as waves on a graph, with different patterns corresponding to each electrical phase of your heartbeat.
What we can detect from ECG
arrhythmias – where the heart beats too slowly, too quickly, or irregularly
coronary heart disease – where the heart's blood supply is blocked or interrupted by a build-up of fatty substances
heart attacks – where the supply of blood to the heart is suddenly blocked
cardiomyopathy – where the heart walls become thickened or enlarged